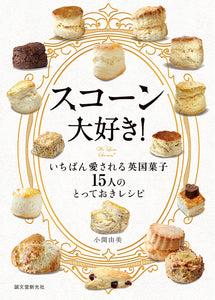 I love scones! / Yumi Koseki / 160 pages

Scones are a staple of British tea time.
Each home, tea room, hotel, etc. has its own taste.
This book is a collection of special recipes from 15 people, including a tea room that is currently attracting attention in Japan and a popular sweets class that cannot be booked.
In addition to how to make it, there are many techniques that are useful for making sweets, such as scones, points to decide ingredients, behind-the-scenes recipe development, etc.
The "tricks" for making delicious scones are also generously released.
In addition to scones, recipes for British sweets that each tea room and sweets researcher specializes in are also available.
It is a book that deepens your understanding of how to enjoy tea with scones and the British food culture unique to the author.

https://www.seibundo-shinkosha.net/book/cooking/21015/


Yumi Koseki

After working at a publishing company, engaged in the writing business.
Since moving to England in 1989, while writing, he has also run an antique business, Bebe's Antiques.
His major publications include "Walking around the English Cotswolds" (Shogakukan), "British Afternoon Tea & Sweets" (Kodansha), and "British Tea House All Day Menu" (Bunka Publishing Bureau). write a book.
He also works as a lecturer at the NHK Culture Center.