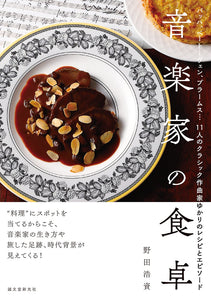 Kosuke Noda/A5 size/256 pages


The author, who has a deep knowledge of German and European culture, cuisine, and classical music, traces the travels of medieval German-speaking musicians, picks up local cuisine from various places, and introduces dishes and episodes related to musicians. increase.

Beethoven, who was not satisfied with his daily eating habits as a child, Mendelssohn, who was wealthy from birth, and Mozart, who traveled from Italy to Germany, France, etc. from the age of 6 to find a place for his musical activities. , spells out the travels and food that accompany the lives of each musician.

As a reading material that traces the life of a musician, as a food book that explores the roots of European cuisine and ingredients, it is also a book that can be enjoyed as a travel guide with many local photographs.

https://www.seibundo-shinkosha.net/book/cooking/36340/
Hiroshi Noda
 Born in Shinagawa, Tokyo in 1947. In 1973, he worked at the Czechoslovakian restaurant "Castle Prague" in Roppongi.
After that, he went to Germany and trained at the Steigenberger Hotel "Frankfurterhof" and "Steigenberger Park Hotel".
After that, he traveled to Belgium, Monaco, and Switzerland to study.
After returning to Japan, after opening a restaurant, he opened "OAG Club Restaurant Kreisel" at the OAG House German Cultural Center in Akasaka, and then opened "Zum Einhorn".
He is known as a German chef who makes you feel the taste of Germany most in Japan.
His publications include "Chef Noda's German Cuisine" and "German Abbey's Herb Cuisine".
My hobby is listening to classical music.